All you need to know to plan a trip to Ireland in May. The best places to visit in Ireland in May, what to pack, what to book when and what to expect from the weather if planning a spring trip to Ireland. Updated 2021.
May is a lovely month for a trip to Ireland, probably my favorite of all!
A spring month, May is when Ireland truly comes out of the winter: blossoms are on the trees, temperatures get warmer and the country shines under the spring sun.
May can be remarkably dry in Ireland and I can tell you: when the sun hits Ireland's sea, the country property shimmers!
May is also a lovely season for first-time visitors.
At this time, you can visit very popular areas of Ireland without masses of tourists, usually coming to Ireland during the summer months, and you can usually get slightly cheaper flights and accommodation prices.
This is my guide answering all your questions about visiting Ireland in May.
Need to know: this is a guide with background travel information about Ireland in the month of May. For up to date travel advisory and restrictions for your time of travel, please refer to official info by the Health Service Executive here
Please note: this post contains affiliate links and, should you make a purchase through them, we might make a small commission at no extra cost to you.
We are a participant in the Amazon Services LLC Associates Program, an affiliate advertising program designed to provide a means for us to earn fees by linking to Amazon.com and affiliated sites. As an Amazon Associate, I earn from qualifying purchases
Festivities in Ireland in May
Ireland doesn't celebrate big festivities in May however, there is one day worth knowing about, and that can impact on your plans: the 1st of May. Labor Day.
The 1st of May is Bank Holiday in Ireland and this means offices are off. This is a prime time for locals to go away, usually within Ireland. and this often means busier hotels, higher prices and more people at big attractions.
If you are planning to be in Ireland during the Bank Holiday weekend, I highly recommend you book accommodation in advance, especially if the day falls close to a weekend.
In 2021, May festivals included:
May 24–June 1: Fleadh Nua, traditional music and dance festival in Ennis (Co Clare)
May 27–31: Listowel's Writers; week, literary festival (County Kerry)
What is the weather like in Ireland in May?
May in Ireland tends to be a mild, dry month however, it also has some rainy days and the changeable and moody weather Ireland is so famous for – it just is a little less moody than usual!
The average temperature in Ireland in May is 11C/52F
The average number of rainy days in Ireland in May is 20
Need to know: despite the high number of rainy days, May is usually nice in Ireland. Rain tends to come in showers rather than solid rain for days and this usually allows for nice sightseeing and long days out.
What to pack
You can find my complete packing list for Ireland in May here, however, this is an overview of my must-have travel essentials for traveling to the Emerald Isle.
Good, broken-in walking shoes/ sneakers
Long trousers/pants (jeans work well)
Short and long sleeve tops
Cardigan or sweater
Rain resistant coat. Usually, a mid-season jacket and light scarf is enough
A nicer outfit if planning on staying in a castle hotel or resort
All your standard toiletries + extra lip balm and hydrating cream to combat the wind
All travel documents and prescriptions
Wet suit for surfing
May in Ireland's most popular destinations: what to expect
Is Dublin nice in May?
Dublin has a lot to offer to visitors in May.
The city has a compact center, which you can easily explore on foot on a sunny day, and also some pleasant parks that, in spring, become a favorite hangout for locals and visitors alike.
If you head to St Stephen's Green, the large park in Dublin city center, you will find everyone catching the sun!
The city has a myriad of museums and restaurants and it is also on the coast, which is lovely in May. If you have more than a couple of days in Dublin, you should most definitely stretch to the sea for nice views or a seafood dinner!
Things not to miss in Dublin in May include:
The stunning Trinity College Library and the Book of Kells
Dublin Castle and annexed Chester Beatty Library
Dublinia (if coming to Dublin with kids)
St Patricks' Cathedral and Marsh Library
The city parks. At this time, I love the Iveagh Gardens in the city center, the walled garden in Marley park and the stunning Botanical Gardens in Glasnevin.
if you are coming to Dublin with kids, this is a great time to explore Dublin's best playgrounds
Is May a good time to visit Glendalough?
May is one of the best months to visit the stunning monastic site of Glendalough, in Co Wicklow.
Located less than an hour south of Dublin, Glendalough is an ancient monastic settlement, hidden in a valley in the beautiful Wicklow Mountains, an area of great natural beauty and protected National Park.
The site dates back to medieval times and is one of the most atmospheric in Ireland with medieval dwellings, an ancient cemetery and a mysterious round tower.
In May, you can go hiking around the lakes: the walk is easy and the views beautiful.
Good to know: Several companies offer organized day trips from Dublin to Glendalough, so you don't have the stress of driving should you prefer not to. Find info and prices here.
Is is worth going to Blarney Castle in May?
I love Blarney Castle (read why here) and one of the reasons I do is, I believe, that I first visited in May, a wonderful month at Blarney!
Blarney Castle is an incredibly beautiful place to visit any time of the year but the spring is special here.
The grounds surrounding the castle are fabulous in spring and you can really enjoy the natural setting of this incredible attraction.
If visiting Blarney in May, make sure you make time for the forest walk and the poison garden, they are wonderful!
Have a look at this Blarney Virtual tour to see what I mean.
Learn how you can include a stop in Blarney in your Ireland itinerary here.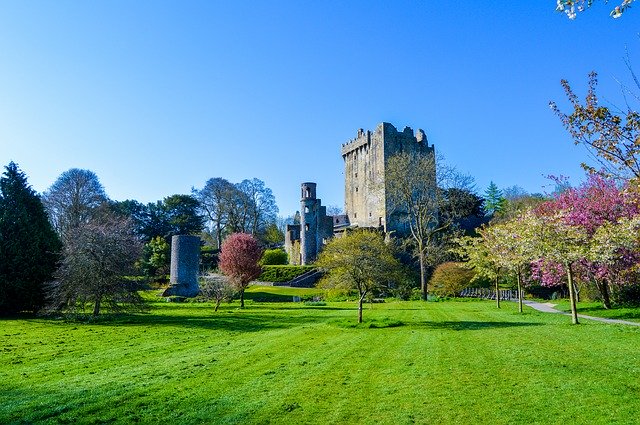 Can you visit the Cliffs of Moher in May?
The weather is never guaranteed at the Cliffs of Moher however, they can be wonderful in May when you can often get blue, bright sky and clear views.
However, May is still a time of changeable weather especially here in the West and caution is essential.
It is paramount that you check the weather beforehand and you only come if there are no storms or a weather warning in place or forecast.
In case of fog, if you are in the area it may still be worth coming and touring the visitors center in the hope of visibility opening up (check road conditions first).
It goes without saying you should not go close to the cliffs in poor visibility.
Many day tours to this area are available from Galway and Dublin: find them all here.
Newgrange UNESCO World Heritage Site
Newgrange is one of the most peculiar and unique sites in the whole of Ireland and this notoriety comes at a cost: crowds!
In summer, at the peak of the tourism season, visiting is hard but in May it is easier! Visits are by guided tours only.
Book in advance to avoid disappointment, even in the slow season.
Other things to do in Ireland in May
Go to the beach
May is not a time to go swimming in Ireland however, it can be a lovely time for a walk along the beach or even surfing!
Some of Ireland' most beautiful beaches are in County Cork (Inchidoney), in Donegal (Ballymastocker) but also close to Dublin (Bull island) and in Wexford (Kilmore Key)
Go on a road trip
May is the time of the year when days get longer and can be a great time for a road trip.
Dingle is one of my favorites but you can also tackle the Ring of Kerry or the remote scenery of West Cork (but check the weather first, you don't want to get up mountain roads if there is a risk of storm or fog!).
I also fin May a glorious time to visit Wicklow: this beautiful County has mountains, the sea and some lovely gardens that are truly wonderful in Spring.
Mount Usher Gardens and Powerscourt are not to be missed.
Some of our most successful road trips in May were also to Northern Ireland (Antrim Coast) and Donegal. However, the weather can turn against you here, so check the forecast first!
Go hiking
On a sunny day, May can be simply perfect for a hike!
Ireland is generous of walks and hikes, suitable for all levels of fitness.
You can find a selection of the best ones all over the country here
Visit one of Ireland's cutest cities
May is a lovely time to mix time outdoors with city exploring. Some of my favorite towns in Ireland are Kilkenny, Cork, Killarney and Galway, all lovely for a weekend away.
Treat yourself to a night in a castle
A night in an Irish castle is a treat in all seasons however, May is an exceptionally good month for a castle adventure as it is a time when you can make the most of the large estates usually surrounding these elegant hotels.
The one thing to consider in this month, however, are weddings.
Castles are popular wedding venues in Ireland and May is a highly sought-after month to tie the knot here, meaning some castles may be booked out or not be able to accommodate you for dinner.
Make sure you book in advance to have the widest choice of accommodation.
Some of our favorites are Dromoland Castle, Ashford Castle and the more affordable yet wonderful Waterford castle (which we indeed discovered thanks to a friend's May wedding reception there!).
May in Ireland with kids
If you are visiting Ireland with kids in tow, you want them to be equipped for outdoor play in the rain. However, once you have that covered, you are pretty much guaranteed a good time!
Among our favorite things to do with kids in Ireland in May, there are the following.
Bring the kids to a farm
May is a lovely time for kids to get out and go to a farm!
If you are visiting Ireland from abroad, your best choice are farms that double up as local attractions or that are near an important site.
Some that come to mind are the Newgrange farm, just beside the Newgrange neolithic complex, Bunratty Castle, Airfield Estate (Dublin) but you can find many more farms pretty much anywhere in Ireland here.
Lovely farms near Dublin that make for a lovely day out are Glenroe Farm and Greenan Maze
Go on a fairy walk
Ireland fairies are legendary and little kids may like to now that, in Ireland, there are several fairy villages worth exploring! Usually, they are hidden in trees so, if you came across a fairy trail, you need to keep your eyes peeled to spot their little doors!
Paces we love for fairies are Greenan Farm and Maze (Co Wicklow), Ardgillan Castle (Co Dublin), Wells house enchanted walk (Co Wexford) and the fairy village in Bunratty castle (Co Clare).
Go on a falcon walk
Falconry is a tradition in Ireland and several places offer the opportunity to get up close and personal with falcons, admire their amazing flying skills and try your hand at holding them.
Some falcon experiences for kids (and not only) we love: the falconry school in Ashford castle (falcon walks, flying displays), Dromoland Castle (falcon walks), Killarney National Park and, closer to Dublin, Russborough House's birds of pray center.
Get an adrenaline rush in one of Ireland's adventure center
Ireland has several excellent adventure centers and May is a lovely time to make the most of them!
Depending on the age if your kids, adventuring can be as easy as going on a squirrel scramble ziplining adventure or spending a weekend immersed in outdoor pursuits in adventure resorts such as the wonderfully located Delphi Resort, in Co Galway,or the Lough Key forest and activity park, Co Roscommon.
Make sure you bring clothes you don't mind leaving behind: the kids have great fun in these places but the clothing doesn't usually survive!
I hope you enjoyed this quick overview on what to expect in Ireland in May. Safe travels!