Practical tips for planning a trip to Ireland: the best time to visit, required document, how long to stay, essential travel tips to help you plan your Ireland vacation.
Planning a trip to Ireland can be exciting and fun but can also be overwhelming.
There is so much to see in Ireland, so many ways to enjoy the country and so much information available on the web it is easy to end up overloaded with choices and unable to make any!
I understand. This website itself is a guide to Ireland so I know how easy is it to go into the rabbit hole of travel planning and get lost.
This is why, while you will find many more articles on this website, I decided to create one big starting point that allows you to get all the basic info and tips you need to plan a trip to Ireland all in the same place.
That place is this article. On this page, you will find all the necessary info to plan a vacation in Ireland. Links from this page will lead you to further reading sometimes on this very site and sometimes on different ones (official sources and in-depth guides by other authors).
I hope this will help you get started and will take away the stress of travel planning: safe travels!
This post contains affiliate links. Should you make a purchase through them, we might make a small commission, at no extra cost to you.
Planning a trip: when is the best month to go to Ireland?
Ireland can be visited all year round, however, if you have the flexibility and can choose the time of your visit, there is no doubt that some seasons are better than others.
By far, the best time of the year to visit Ireland is the late spring and summer (mi-April to late August).
This is the time of the year with the best temperatures (not too cold, not too hot), the hours of daylight longer and the days brighter.
Late spring is my personal favorite as it also is a time without excessive tourism affluence but the summer is also good: the very long hours of light means you can make the absolute most of your time to sightsee and can drive later into the day.
The months of September / October can also be nice in Ireland.
The days are shorter at this time and rain is frequent however, Ireland has beautiful foliage in the fall and this can be a good time to visit both Dublin and the countryside.
Just be prepared for rain and bring a warmer jacket, especially if used to warm climates. This is also a fun time to visit Ireland thanks to Halloween, which is an Irish festivity and is celebrated extensively (31 st October)
December is a mixed month to visit Ireland. Christmas brings big decorations and cheers to cities and towns and this is a good time to come to Ireland for shopping and for enjoying the country's cozy interiors, may they be pubs, cafes or hotels offering afternoon tea.
Other months in Ireland are a mix.
November in Ireland is cold and dark but can be fun thanks as a lead-up to Christmas (decorations start going up at the beginning of the month).
January is miserable but you do have the Temple Bar Trad festival that can be fun if you are into music.
February can be lovely as it is the start of spring but you are never guaranteed the weather and the same can be said about March.
March in Ireland is also the month of St Patrick's Day which is a good reason to visit Ireland or a good reason to avoid it, depending on what you like!
Personally, I recommend visiting Ireland in December-February only if you plan on a city break: visiting the countryside at this time exposed you to bad weather, cold and driving in winter in Ireland can expose you to hazardous conditions and is, therefore, something I would urge you to consider carefully.
Documents: do you need a visa to travel to Ireland?
Ireland is part of the European Union but it is outside the Schengen area.
The documents needed to enter and the rules about how long you can stay in the country vary depending on your nationality and passport and the best way to make sure you are all set is to check with your embassy.
You can find the official list of Irish embassies and consulates around the world here.
Good to know. If you are traveling alone to Ireland with a child with a different surname as you, you may be asked to prove that you are their parent/legal guardian. In my experience, the request has been inconsistent but has been made: always travel with your kid's birth certificate or relevant documents should you be asked to produce them when entering the country. If traveling to Ireland with kids, I recommend you check our guide to Ireland for families here
Money, cash and credit cards
Ireland is in the Eurozone and the only currency accepted in the country is the Euro,
You can book Euro in advance or withdraw them on arrival from the ATMs (cash machines) in Dublin airport/ port.
Debit and credit cards are widely accepted in Ireland especially in Dublin and in the bigger cities however, it is always advisable to have some cash just in case.
Most taxis for instance now accept cards but it is always better to check before boarding as, again, this is not a rule.
Before coming to Ireland, I recommend you talk to your bank and make sure your car works on European circuits and they are aware you are aboard,
When not informed, a withdrawal from an unusual location may trigger a warning and get your card blocked. This can be easily sorted with a call to your bank back home but between the time difference and the cost of roaming, it is a pain you can do without!
Phone, SIM cards, internet and wifi
The international phone code for Ireland is +353
The best way to avoid crazy high phone charges while in Ireland is to check with your provider what type of offer they have for a trip here or get a local SIM card.
If you go the SIM card route, you can usually buy cards the airport or in phone shops in the biggest town centers.
Wifi is common in bigger centers and most hotels now offer it for free to their clients (always double-check!). More remote areas of Ireland and mountainous areas often do not offer strong cell signal.
Make sure you have a backup like a paper map should you find yourself in a poorly served area.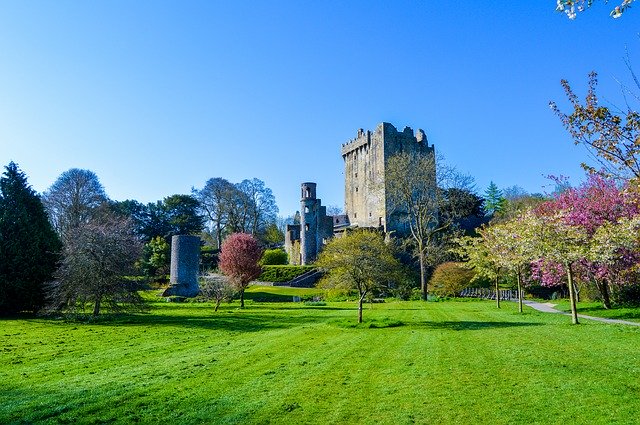 What are the must-see places in Ireland:
I have a long list of beautiful places in Ireland that can make the cut and be considered a 'best to see' however if this if your first trip, I am going to try and narrow them down to a manageable number.
In my option (and those of many tourists who select these as popular destinations):
Best cities to see in Ireland: Dublin, Cork, Kilkenny, Killarney, Galway, Derry (Northern Ireland), Belfast (Northern Ireland)
Best coastal sceneries: the West coast (West Cork, Kerry, Clare, Galway, Donegal), the Antrim Coast (Northern Ireland)
Best historical sites: Dublin, Glendalough, Newgrange, Rock of Cashel, Clonmacnoise
Best castles: Blarney, Kilkenny, Trim
Best sea cliffs: Cliffs of Moher, Slieve League
Best experiences to have in Ireland
Listening to Irish music in a pub
Joining a literary pub tour in Dublin
Tasting Guinness and Murphy's in Cork + joining the debate on which is best!
Seeing (or trying!) Irish dancing
Indulging in a rich Irish breakfast
Letting the wind caress you face on the top of a coastal path with gorgeous views
Staying in a castle
Go to an adventure center (if you are a child or sporty adult!)
How many days in Ireland?
I have been living in Ireland for 15 years and I haven't seen it all so it would be tempting to answer 'as many as you can fit in' however, I know this is not always as straightforward to do.
I believe the best way to decide how many days to spend in Ireland is to get a sense of what is reasonable to cover in a certain length of time.
You can find our recommended Ireland itineraries here.
4 days in Ireland
With 4 days in Ireland, you can explore a limited area, not too far from your airport of arrival/departure.
Sample itineraries for this length would be:
Dublin City and a day trip to Glendalough or Kilkenny
Cork city and Blarney castle (arriving in Cork or Dublin)
Killarney area (arriving in Shannon): careful as this option requires a lot of driving and is unsuitable if you are affected by jet lag
Galway City and the Cliffs of Moher (arriving in Shannon)
7 days in Ireland
One week in Ireland is a reasonable amount of time to cover some of Ireland's must-see attractions.
Sample itineraries for a week in Ireland can be:
Dublin, Kilkenny, Galway and the Cliffs of Moher
Dublin and Cork
The West (for example Kerry, Galway and the Cliffs of Moher)
Dublin and the North
Each of these locations can also be explored individually for a full week and so can other areas of Ireland such as Connemara, Donegal, West Cork.
However, if this is your first trip to Ireland and you want to see a lot of the country, the itineraries above are a good start.
You can find those itineraries analyzed and described in more detail in this article about seeing Ireland in 7 days.
10 days in Ireland
If 7 days in Ireland are good, 10 days in Ireland are even better!
With this length of time, you can see several areas in the Republic of Ireland or could decide to also go North.
Sample itineraries for 10 days in Ireland may have to go:
Ireland anti-clockwise road trip covering Dublin, Cork, Kerry, Galway (this would be my choice)
The West and the South (arriving in Shannon)
The west and the North
2 weeks in Ireland
With two weeks in Ireland, you can visit all of Ireland's most famous sites and add little off-the-beaten-track places.
My favorite way to spend 2 weeks in Ireland is to take an anti-clockwise road trip that touches on Dublin, Kilkenny, Cashel, Cork, Kerry, Galway and the North.
This involves a lot of driving but will show you unforgettable sceneries and Ireland's most beautiful cities
3 weeks in Ireland
With 3 weeks in Ireland, the country is your oyster! With 3 weeks, you can truly explore a lot of the country and you will also have the time to go a little off the most usual places.
If you have this time, I highly recommend you follow the road trip outlined above for 2 weeks but also add stops in West Cork and Donegal: these are wonderful, more remote areas of the country of unparalleled beauty and with very little tourism. The expression hidden gem comes to mind to describe these areas.
Traveling around Ireland: do you need a car?
Strictly speaking, is it not necessary to have a car in Ireland but it definitely comes in handy
The country has a decent network of buses and some train connections.
However, the train doesn't cover all destinations and many areas of natural beauty are in secluded locations not served by buses.
If you have a choice, renting a car in Ireland and driving yourself is the easiest option. The second best options is, I believe, mixing public transport and local tours.
When I first traveled around Ireland without a car, we took the bus to most destinations and then booked local tours to see Connemara from Galway as a day trip.
That was an excellent way to visit Ireland however, there was a lot of waiting around and I only recommend it id you have enough time to take it easy and settle in different locations in between journeys.
Some excellent day tours in Ireland to check out are:
If you are planning a trip to Ireland and want to somewhat limit your driving while still maintaining freedom of movement, mixing the occasional tour with self-driving can be the best idea.
Driving in Ireland: need to know
Driving in Ireland is notoriously difficult for first-time visitors, especially if used to highway driving (like in many parts of the US0.

The challenges are usually 3 fold:
In Ireland, we drive on the left
Cars tend to have manual transmission, so you need to drive with the gear stick
Many roads in the West especially are narrow and winding
These characteristics make driving in Ireland daunting for many and it is paramount that you approach driving here with caution. Some recommendations are:
Ask for an automatic car. These are not the norm in Ireland but they do exist and are becoming more common. This is an easy way to take away one of the stressors about driving in Ireland and is usually worth the extra cost.
Never ever drive if you are tired of jet-lagged. Avoid planning driving long distances as soon as you arrive. If driving is inevitable, choose a first destination along the motorway and wait to feel suitable rested before getting into the car.
Take your time, especially on small roads or at traffic junctions. Visibility can be tricky on many small roads: always take your time to drive, slow down, watch all ways always before entering a junction and never rush a decision.
Familiarise yourself with the Irish rules of the road before coming for extra safety.
You can find more tips and info about driving in Ireland here
Driving in Ireland with kids: do I need a car seat?
Yes! Car seats in Ireland are compulsory for children up to age 12 and 150 cm tall. You can find all the official regulations and specs of approved car seats for use in Ireland here.
Good to know: many car rental agencies offer the opportunity to book a car seat. Make sure that you check and cable checks the age suitability as especially for babies and very young children, it may be tricky to get the correct car seat. This usually get easier as you child gets old enough for a booster seat.
If coming to Ireland with a baby to a small toddler, I recommend you bring your own.
Where to stay in Ireland
Ireland is very well equipped to welcome visitors and you have a good selection of options when it comes to accommodation.
At a glance, the best places to stay in Ireland are:
Staying in B&Bs in Ireland
These are the most 'authentic' places in Ireland, private homes that now tea on guests to which they offer a room and home-cooked breakfast. B&Bs come in all shapes and sizes: some are big and able to offer en-suite rooms, some smaller and with shared facilities.
When staying in a B&B, you are staying in a home with all the advantages of a homely welcome.
These are a great option if you want to stay in a cozy setting and like chatting with the owners: usually, they have a genuine love for having people over.
This is on the other hand not a good option if you are hoping for a more hotel-like experience such as 24-hour reception etc.
I always book B&Bs in Ireland via Booking.com which has a great selection and (often) excellent cancellation options. You n find their selection of B&Bs in Ireland here.
Staying in hotels in Ireland
Hotels are all over Ireland and you will easily find international names and chains you are familiar with such as Hilton as well as local names and independent establishments. My go-to website for hotels in Ireland is booking.com which you can access here.
Staying in a castle in Ireland
A popular type of visitor accommodation in Ireland are castle hotels. These are usually higher-end properties for short terms stays and can be a fun way to treat yourself to a really regal night while in Ireland.
However, it is important to know that not all castle hotels are as grand and 'castle-ly' as each other. While some castle hotels are properly princess-worthy, with turrets and amazing interiors, others are better described as Manor houses, beautiful but often less evocative.
When choosing a castle hotel, especially if treating your kids to a night as a princess or prince, make sure you check photos carefully to avoid disappointment.
What to eat in Ireland: traditional Irish food, vegetarian and vegan food in Ireland
Ireland has come a long way when it comes to the food on offer and it is very common now in even smaller centers to find restaurants serving international food such as Italian, Japanese, Pan-Asian and more (quality vary massively!).
International food aside, however, on a traditional Irish menu you can expect to find meat (beef, lamb chicken mostly), fish and the occasional vegetarian option, usually some form of risotto, salad or pasta.
Vegetarian options are becoming more widespread and in bigger centers you start seeing some vegan options too however, your options really shrink if you do not eat eggs or dairy.
The country is a big producer of beef, dairy and poultry so they tend to dominate the menu.
Kids menus are often available and they tend to offer chicken nugget, sausages, fish fingers, pizza and pasta (with tomato sauce or meat usually).
You can find some nice traditional Irish recipes in the food section of this site, here!
How far in advance should you plan a trip to Ireland? What to book when
The answer to this question depends on the season and the area you are planning to visit but, as a general rule, the following is good to book as early as possible:
Flights: I usually look at Kayak and google flights to get a sense of the direction of prices. Especially during the summer, at weekend, National holidays and school holidays prices tend to go massively up so staying flexible and keeping an eye on prices from early on is key.
If flying from the US, please be advised that many if not all flights arrive in Dublin vert early in the morning, at about 5 am. Please take jet-lag into account when planning this first day and take your time: avoid driving long distances or at all if you can.
Car: if you are renting a car, booking in advance gives you the highest chances of securing an automatic one!
Accommodation: if you are traveling in the busy season, booking accommodation in advance is a must, especially in very popular areas such as Dublin, Galway or Kerry.
I usually book via booking.com and select accommodation with a free cancellation option so I know I have a base but don't have to commit until closer to the time
Attractions: you usually do not need to book access to attractions in advance. Some exceptions apply in Dublin: you can find our recommended things to see in Dublin and best sites for tickets here
What to pack for Ireland
What to pack for Ireland depends on the season of your visit. As a general rule, expect Irish weather to be changeable and moody and do pack layers even for the warmer season.
You can find my full list of Ireland travel essentials here and an overview just below:
Good walking shoes, waterproof in winter (boots or ankle boots are ideal)
Walking sandals/ flip-flops only in summer
Socks and tights if planning on wearing skirts/dresses
Jeans / Long trousers Shorts can come in handy on warmer summer days in summer, especially if hiking
Thermal top layer for winter
Short and long sleeve tops for layering, all season
Sweater, lighter for summer, thick and woolen for winter
Outer jacket for all season, warm and waterproof one for winter
Warm outer shell for baby in winter
Scarf, hat and gloves for winter
Toiletries
Essential medicines
Phone and camera
Charger (three-pin, UK style plug)
Travel adaptor
Extra battery pack
Reusable water bottle
Paper map
You can find detailed packing lists for Ireland month by month here.
Conclusion
I hope this article helped you get started planning a trip to Ireland. Safe travels!