All you need to know to plan a trip to Ireland in April. The best places to visit in Ireland in April, what to pack, what to book when and what to expect if planning a trip to Ireland at Easter.
April is a lovely month for a trip to Ireland.
A spring month, April in Ireland is a month of changeable weather but also one offering lovely sunny days and, most of the time, smaller crowds.
This makes it a lovely season for first-time visitors: at this time, you can visit very popular areas of Ireland without masses of tourists, usually coming to Ireland during the summer months, and you can usually get slightly cheaper flights and accommodation prices.
Despite this encouraging introduction, however, planning a trip to Ireland in April does require a little bit of work, mostly to be ready for the weather, stay safe on the road and avoid some pitfalls should you travel on a year when Easter falls in this month.
This is my guide answering all your questions about visiting Ireland in April.
Need to know: this is a guide with background travel information about Ireland in the month of April. For up to date travel advisory and restrictions for your time of travel, please refer to official info by the Health Service Executive here
Please note: this post contains affiliate links and, should you make a purchase through them, we might make a small commission at no extra cost to you. 
As Amazon Associates, we earn from qualifying purchases.
What is Ireland like in April? Is April a good month to visit Ireland?
April is a spring month in Ireland and usually sees lovely blossoms dotting the green Irish countryside with dashes of pink and yellow, the first opportunities to go hiking and longer days perfect for road trips and days out.
April in Ireland is also a time of fewer crowds, many prefer to come to Ireland during the warmer summer months, and therefore a month of lower prices and short queuing times in popular attractions.
This is a huge plus!
This makes April one of the best months of all to visit Ireland although there are also some disadvantages about coming in the shoulder season.
The first is the weather, which can still very much play tricks on you – April in Ireland is not a summer month and you need to be ready for pretty chilly days, as well as nicer, warmer ones and a lot of rain!
The other downside is that April can still be rough on the sea and therefore not all attractions are easy to reach or open at all.
For instance, in April there are fewer ferry services to the Aran Islands or Skellig Michael than in the summer (although Skellig Michaels is always hit and miss!), which is important to know if they are must-sees on your Ireland itinerary.
Last but not least, if planning a trip to Ireland in April, you need con to consider that Easter after falls in this month and in that case, it can affect your plans or cause price spikes due to the local school break.
I have a shortlist of dates to be aware of if visiting Ireland in April below.
April in Ireland: important dates and festivities
The main festivity taking place in Ireland in April, and not every year, is Easter.
Ireland is largely catholic and this means Easter is a pretty big deal here.
Churches are at the center of the festivity but you will also encounter closures and possibly reduced hours of operation for some shops and attractions.
In terms of crowds, Easter coincides with a long-ish school break for local kids and this means family hotels tend to fill up at this time.
Advance booking over the Easter weekend is essential.
Good Friday – Good Friday is not a public holiday and the old rule that pubs cannot serve alcohol on this day is no longer in force. However, this is still a day many observe so you may find pubs in some locations or individual smaller shops closing for the day.
Usually, good Friday doesn't affect the opening hours of main attractions but do check for the specific year of your travel as this can change.
Easter Saturday – This is usually a day with lots of family events around Ireland. Main attractions can get busy, advance booking is recommended.
Easter Sunday – Public Holiday, special menus (with prices to match!) in many restaurants and hotels/ advanced planning is mandatory.
Easter Monday – Public Holiday, offices and most businesses are closed. Advance booking of accommodation and attractions, if open on the day, is mandatory.
What is the weather like in Ireland in April?
April is hit and miss in Ireland.
Some years we have amazing weather here in April, proper full-on sunny days that compensate for the often awful dark days we had to endure from November to mid-March.
Other years, however, April acts up and brings wet days and less than spring-like temperatures.
So, what to expect in Ireland in April? A bit of both!
Overall, you can expect April to be a mid-season month, with chilly mornings and evening but milder temperatures in the middle of the day.
The clocks usually go forward in April or at the end of March and this means evenings are longer, which is nice for sightseeing as it tends to give you extra hours and more lead way if you are on a road trip (never, even drive in the dark in Ireland!)
If you are coming from warmer climates (like me, I am Italian albeit in Ireland since 15 years ago), Ireland will seem cold to you while, if you come from countries that still see snow and cold temperature, Ireland in April will be a nice mild place to be!
Local tends to look forward to April as a month when the cold winter finally lets go.
For better context than my observations about the weather in Ireland in April, these are the official weather statistics and historical data:
The average temperature in Ireland in April is 8C/46F
The average number of rainy days in Ireland in April is 22
What to pack for Ireland in April
Considering the above, my must-have travel essentials for traveling to Ireland in April are (you can find my full packing list for April in Ireland here):
Waterproof shoes: walking shoes and boots are perfect both for the outdoor and the city.
Warm socks/tights if bringing skirts or dresses
Long trousers/pants (jeans work well)
Long sleeve tops
Warm cardigan or sweater
Rain resistant winter coat/scarf. You usually can do without hat and gloves by this time. I usually like to have a light jacket handy for warmer days (like a puffa jacket, which you can fold to a tiny size and carry with you without bulking up your luggage)
A nicer outfit if planning on staying in a castle hotel or resort
All your standard toiletries + extra lip balm and hydrating cream to combat the cold
All travel documents and prescriptions
Wet suit for surfing
Ireland's main attractions in April: what to expect
Dublin in April
Dublin has a lot to offer to visitors in April.
The city has a myriad of museums and restaurants and is a good place to spend a weekend or to use as your first stop on an Ireland itinerary. Things not to miss in Dublin include:
The stunning Trinity College Library and the Book of Kells
Dublin Castle and annexed Chester Beatty Library
Dublinia (if coming to Dublin with kids)
St Patrick's Cathedral and Marsh Library
The city parks; at this time, I love the Iveagh Gardens in the city center, the walled garden in Marley park and the stunning Botanical Gardens in Glasnevin
Good to know: The Dublin Pass included most attractions in Dublin and can be convenient if you ate planning on extensive sightseeing.
Dublin city can get very busy over Easter so make sure you book your hotel in advance should you be here during the festive period.
Glendalough monastic site, Co Wicklow
Located less than an hour south of Dublin, Glendalough is an ancient monastic settlement and a lovely one to visit in April
The site dates back to medieval times and lies in a stunning location: a mountain valley with two twin lakes! In spring, you can easily enjoy both the site itself and the nature around it.
The walk around the lakes is lovely and easy and April is the time when nature and animals come back to life, taking a walk here truly magical.
Glendalough is lovely for all ages: you can find our tips for visiting Glendalough with kids here.
Good to know: Several companies offer organized day trips from Dublin to Glendalough, so you don't have the stress of driving should you prefer not to. Find info and prices here.
Blarney Castle
Blarney Castle and its famous Blarney Stone are one of the most popular attractions in the whole of Ireland and one that receives a crazy number of visitors in summer.
While absolutely worth it, the number of tourists can pose a problem, especially if you want to kiss the famous stone and get the 'gift of the gab' so if that's your pan, I highly recommend you go in April instead!
At this time, Blarney sees lower crowds and you can also enjoy its lovely gardens, which are amazing this time of the year.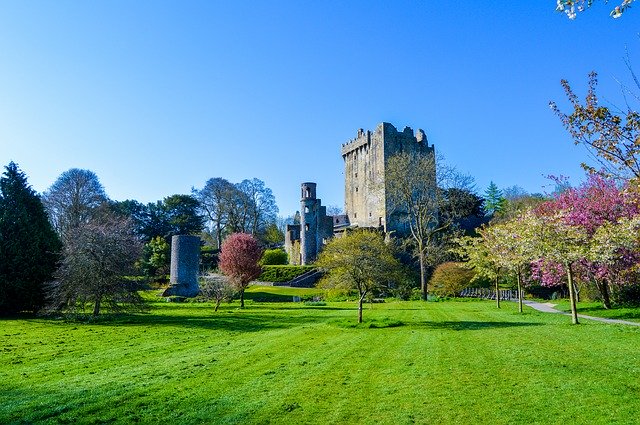 The cliffs of Moher and the Burren
The weather is never guaranteed at the Cliffs of Moher however, they can be wonderful in April, especially if you come here later in the day, when you can see the sun going down and a tinge of red filling the sky (they are on the West coast).
However, it is paramount that you check the weather beforehand and you only come if there are no storms or a weather warning in place or forecast.
In case of fog, if you are in the area it may still be worth coming and tour the visitors center in the hope of visibility opening up (check road conditions first). It goes without saying you should not go close to the cliffs in poor visibility.
You can find my guide to visiting the cliffs of Moher here.
Many day tours to this area are available from Galway and Dublin: find them all here.
Newgrange UNESCO World Heritage Site
Newgrange is one of the most peculiar and unique sites in the whole of Ireland and this notoriety comes at a cost: crowds!
In summer, at the peak of the tourism season, visiting is hard but in April it is easier! Visits are by guided tour only.
Book in advance to avoid disappointment. 
Other things to do in Ireland in April
Go to the beach
April is not a time to go swimming in Ireland however, it can be a lovely time for a walk along the beach or even surfing! Some of Ireland' most beautiful beaches are in County Cork (Inchidoney), in Donegal (Ballymastocker) but also close to Dublin (Bull island) and in Wexford (Kilmore Key)
Go on a road trip
April is the time of the year when days get longer and can be a great time for a road trip.
Dingle is one of my favorites but you can also tackle the Ring of Kerry or the remote scenery of West Cork (but check the weather first, you don't want to get up mountain roads if there is a risk of storm or fog!).
Go hiking
On a sunny day, April can be simply perfect for a hike! Ireland is generous of walks and hikes, suitable for all levels of fitness. You can find a selection of the best ones all over the country here
Visit a Garden
Ireland has some stunning gardens and March, especially the second part of the month, is a great time to visit.
You have a variety of gardens to choose from but among the best, we believe are:
Powerscourt, grand and formal with Italian style gardens and fountains
Mount Usher, Robinsonian, curated wild garden with native plants ans shrubs
Japanese gardens in Kildare, Japanese style garden and Celtic garden withing the grounds of the National Stud facility
Treat yourself to a night in a castle
March weather is the perfect excuse for a stay in one of Ireland's many romantic hotels.
Some of our favorites are Dromoland Castle, Ashford Castle and the more affordable yet wonderful Waterford castle.
April in Ireland with kids
If you are visiting Ireland in April with kids in tow, you want them to be equipped for outdoor play in the rain. however, once you have that covered, you are pretty much guaranteed a good time!
Among our favorite things to do with kids in Ireland in April, there are the following.
Bring the kids to see the lambs
April is a time for lambs and new life, a lovely time for kids to get out and go to a farm!
If you are visiting Ireland from abroad, your best choice are farms that double up as local attractions or that are near an important site.
Some that come to mind are the Newgrange farm, just beside the Newgrange neolithic complex, Bunratty Castle, Airfield Este (Dublin) but you can find many more farms pretty much anywhere in Ireland here.
Participate in a local Easter Egg hunt
Easter egg hunts are a popular weekend event for Irish kids in this season and visitors are welcome to take part too!
The exact locations, days and times vary each year but usually, local parks and castles and farms host them. I will put up dates for 2022 as soon as they are announced.
Go on a fairy walk
Finding Easter Eggs is Easter dependent but finding fairy doors isn't! Ireland has very many places where you can try your hand and challenge your little explorers to see fairy doors and the spring is a wonderful time for such a pursuit.
Paces we love for fairies are Greenan Farm and Maze (Co Wicklow), Glenroe Farm (Co. Wicklow) Ardgillan Castle (Co Dublin), Wells house enchanted walk (Co Wexford) and the fairy village in Bunratty castle (Co Clare).
Go on a falcon walk
Falconry is a tradition in Ireland and several places offer the opportunity to get up close and personal with falcons, admire their amazing flying skills and try your hand at holding them.
Some falcon experiences for kids (and not only) we love: the falconry school in Ashford castle (falcon walks, flying displays), Dromoland Castle (falcon walks), Killarney National Park and, closer to Dublin, Russborough House's birds of pray center.
Get an adrenaline rush in one of Ireland's adventure center
Outdoor fun doesn't stop in Ireland for a bit of rain so if your kids are the adventurous type, they can get the adrenaline fix they crave in one of Ireland's adventure centers.
Depending on the age of your kids, adventuring can be as easy as going on a squirrel scramble ziplining adventure or spending a weekend immersed in outdoor pursuits in adventure resorts such as the wonderfully located Delphi Resort, in Co Galway, or the Lough Key forest and activity park, Co Roscommon.
Make sure you bring clothes you don't mind leaving behind: the kids have great fun in these places but the clothing doesn't usually survive!
I hope you enjoyed this quick overview of what to expect in Ireland in April. Safe travel planning!