All you need to know to plan a trip to Ireland in July. The best places to visit in July in Ireland, what to pack, what to book when and what to expect if planning a trip to Ireland in summer.
July is the heart of summer in Ireland and a lovely time for visiting the Emerald Isle.
The weather that had started improving in May is now at its best and summer is in full swing: this is a time for ice creams, days in the parks, hikes and even drinks in outdoor terraces!
I know that this surprises many: Ireland is indeed more famous for bad weather and rain than for al fresco dining but this doesn't mean it is all doom and gloom here, far from it!
While you can never be guaranteed hot sun, July in Ireland is usually a nice, sunny, bright month and you can have reasonable expectations for long days out and pleasant temperatures.
This is my guide answering all your questions about visiting Ireland in July.
Need to know: this is a guide with background travel information about Ireland in the month of July. For up to date travel advisory and restrictions for your time of travel, please refer to official info by the Health Service Executive here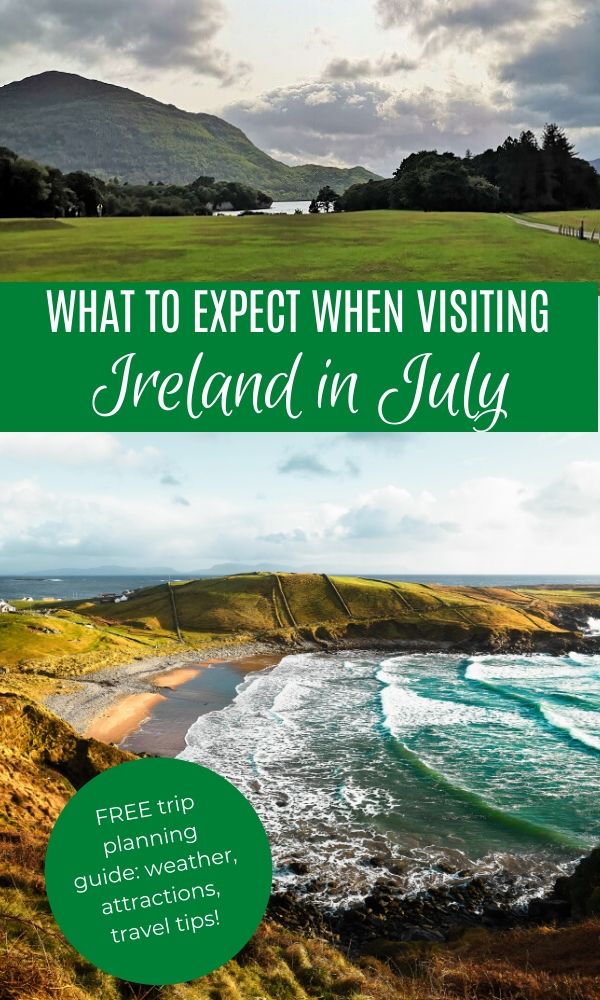 Please note: this post contains affiliate links and, should you make a purchase through them, we might make a small commission at no extra cost to you. 
As Amazon Associates, we earn from qualifying purchases.
Is July a good month to visit Ireland?
July is a wonderful month to visit Ireland.
It is the heart of summer and this brings long hours of daylight, sunny days and a fun summer feeling all over the country.
This is the time when pub terraces and ice cream parlors come to life, people wear summer clothes and even go to the beach!
The only downside to visiting Ireland in summer is the crowds.
This is a very popular time for both locals and foreigners to travel rind Ireland this means prices are high and hotel availability is at a minimum.
Advance booking is mandatory (see below) and you need to expect crowds almost everywhere.
Weather, rain and temperatures in Ireland in July
With June and August, July is very much the good season here and the best time of the year to visit Ireland is you are hoping for long days of sightseeing, sunny days and outdoor excursions.
In terms of temperatures, the temperature in Ireland in July ranges between 12C/54F and 19C/66F degrees and while this may seem pretty cold for being summer, this is not always the case!
When the sun is out, Ireland gets surprisingly hot, so much so that 18C degrees feel like many more.
I know this very well: being Italian, I am always cold, however, I am often in shorts and short sleeves in Ireland in summer so when I say it gets surprisingly warm, you can believe me!
Rain is always possible in Ireland in any season however, July is relatively dry and rain, when it comes, does in more in the form of a sizzling shower than a downpour and hardly lasts all day.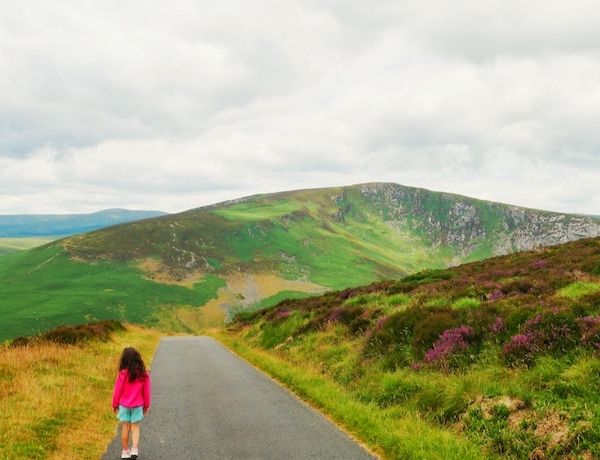 What to pre-book when visiting Ireland in July
July is a very busy month in Ireland for tourism. This is the time for local summer holidays and everywhere is teeming with people.
This is among the busiest times of the year and advance booking or hotels and tours to the most popular locations is a must.
My recommended booking engine for accommodation in Ireland is booking.com: they have excellent cancellation policies that set my mind at ease when it comes to booking many months before my actual stay.
Make sure you book early especially in Dublin, the area of Cork and Kerry: these are among the most popular destinations of all even if the offer of accommodation is vast, availability does run out!
Only some attractions allow advance booking and this usually saves you from long lines on the day. This is an overview of those who do and don't:
Need to know! Galway hosts the Galway Arts Festival in July and, at the end of the month, the Galway races. These events attract a lot of visitors so booking tour accommodation in Galway in advance at this time is mandatory.
What to pack for Ireland in July
You can find my full packing list for July here but below, you will find my recommendations and travel essentials for a summer trip to Ireland:
Visiting Ireland in July: what to expect at main attractions
Visiting Dublin in July
Dublin has a lot to offer to visitors in July.
The city tends to be dry and sunny at this time and you can easily enjoy its many parks, outdoor terraces and even the coast, which is stunning at this time.
Things not to miss in Dublin include:
Good to know: The Dublin Pass included most attractions in Dublin and can be convenient if you are planning on extensive sightseeing.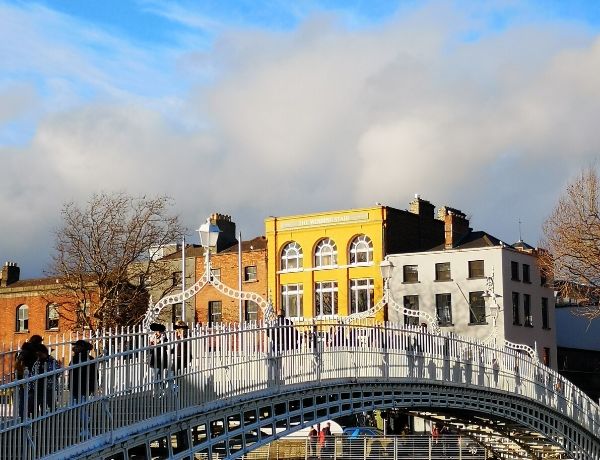 Glendalough in July, Co Wicklow
July is a wonderful month to visit the stunning monastic site of Glendalough however, it is also one of the busiest!
Located less than an hour south of Dublin, Glendalough is an ancient monastic settlement, hidden in a valley in the beautiful Wicklow Mountains, and one of the easiest day trips from Dublin.
People flock to its lakeshores and atmospheric medieval settlements all year round however, summer really is so busy, the site regularly runs out of parking spaces. If you can, avoid coming at the weekend or come as early, or late, as possible to avoid peak hours.
If you find a parking space, the nice thing about visiting in July is that you can go hiking around the lakes: the walk is easy and the views beautiful.
Even better: with the weather on your side, you can easily combine a visit to the monastic site with a longer hike in the area, for instance, walking down to Lough Dan or catching a view of Lough Tay from the Sally Gap.
Good to know: Several companies offer organized day trips from Dublin to Glendalough, so you don't have the stress of driving and parking at these busy times Find info and prices here.
Visiting Blarney Castle in July, Co Cork
Blarney Castle is an incredibly beautiful place to visit any time of the year but it is special in summer.
The grounds surrounding the castle are fabulous in the good season and coming over in June, you can really enjoy the natural setting of this incredible attraction.
Make sure you make time for the forest walk and the poison garden in particular: they are my favorite bit of the castle and truly wonderful! Have a look at this Blarney Virtual tour to see what I mean.
You can find here my full review about visiting Blarney Castle and my tips for visiting Blarney Castle with kids here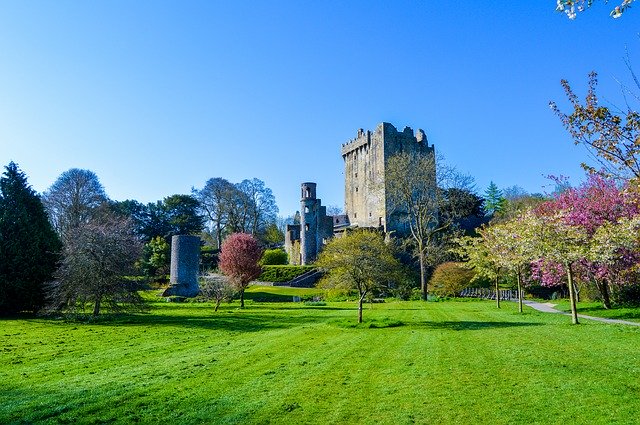 Learn how you can include a stop in Blarney in your Ireland itinerary here.
Good to know: Blarney Castle is one of the most famous and popular attractions in the whole of Ireland and this means it can get busy. While this is usually not a problem for a visit to the castle grounds, it can be if you want to kiss the Blarney Stone: be ready for lines if kissing the stone is on your Ireland bucket list.
Seeing the Cliffs of Moher in July, Co Clare
The weather is never guaranteed at the Cliffs of Moher however, July is one of the best months to visit in terms of the weather and the cliffs are incredible in the sun!
On a bright day, the light shines on the water and a visit to the cliff becomes an all body experience: the sun, the wind, the screams of birds all envelope you in the magic of the place.
The cliffs however are also at their busiest at this time and this can be annoying: if coming in summer, do expect a line at the entrance and again at the cafe, visitors' center and facilities.
Booking in advance will help you on arrival but you will still have to queue for everything else.
If you are traveling with kids or get here around lunchtime, I recommend you bring your own snack as the cafe gets seriously busy.
Good to know: Many day tours to this area are available from Galway and Dublin: find them all here. However, the day tour from Dublin is a VERY long day, so I only recommend you consider it if you don't have the option to stay in the area.
Visiting Killarney National park and the Ring of Kerry in July
Killarney National Park and the Ring of Kerry are absolutely wonderful in July.
This is the time when you get the best weather and you can enjoy all the National Park and the drive have to offer: stunning views, hikes and plenty of options for outdoor pursuits.
This is, however, also the time when these destinations are at their most crowded. Advance booking of hotels, day tours and rental cars is essential.
You can find my tips for visiting Killarney here.
Visiting Newgrange in July
Newgrange is one of the most peculiar and unique sites in the whole of Ireland and this notoriety comes at a cost: crowds!
If you are planning on visiting this incredible neolithic passage tomb, booking in advance is mandatory. Access to the tomb is by guided tour only: you can make your reservation here.
The best things to do in Ireland in July
All the attractions above are well worth a visit but there ate many more things to do in Ireland in June that are worth adding to your plan.
Here are some of my favorites.
Go to the beach
Ireland has some stunning, vast sandy beaches and while the water stays pretty cold in summer too, they really come into their own in June, July and August.
On sunny days, locals will flock to them to sunbathe, swim, surf or even just take in the scenery.
Some I love are in County Cork (Inchidoney), in Donegal (Ballymastocker) but also close to Dublin (Bull island) and in Wexford (Kilmore Key).
Donegal, in particular, is pretty remote and tends to receive fewer tourists, despite being one of the most beautiful parts of the country!
Go on a road trip
July is a wonderful time for an Ireland road trip.
The days are long and bright and the night doesn't really fall until well after 9 pm.
While I don't recommend you ever drive too late in Ireland (you don't want to get caught by darkness, especially on country roads), this leaves you a little more time to enjoy the trip and allows you to keep a slower pace.
Places I love for an Ireland road trip are:
Brave the steep steps of Skellig Michael
Skellig Michael is one of the most incredible places in the whole of Ireland but also one of the least accessible.
Summer offers the best chance of calm waters and a great time to see not just the island and its settlement but its inhabitants too: the puffins!
Go hiking
On a sunny day, July can be simply perfect for a hike! Ireland is generous with walks and hikes, suitable for all levels of fitness. You can find a selection of the best ones all over the country here
Visit a Garden
Ireland has some stunning gardens that are in full bloom during the summer.
You have a variety of gardens to choose from but among the best, we believe are:
Treat yourself to a night in a castle
A night in an Irish castle is a treat in all seasons.
However, July is an exceptionally good month for a castle adventure as it is a time when you can make the most of the large estates usually surrounding these elegant hotels.
The one thing to consider in this month, however, are weddings.
Castles are popular wedding venues in Ireland and July is a highly sought-after month to tie the knot here, meaning some castles may be booked out or not be able to accommodate you for dinner.
Make sure you book in advance to have the widest choice of accommodation.
Some of our favorites are Dromoland Castle, Ashford Castle and the more affordable yet wonderful Waterford castle.
Visit one of Ireland's cutest towns
Ireland is full of cute towns and the summer is a wonderful time to experience them since the weather truly allows city life to get into full swing.
Among my favorites, there are Galway, Kilkenny and Dingle, all full of music, opportunities and fantastic surroundings perfect for day trips and excursions!
Best things to do in Ireland in July with kids
Summer is the best time to visit Ireland with kids in tow.
Irish children play outside all year round and in all weather conditions but, without a doubt, this time of dry days is way more conducive to outdoor pursuit than any other!
The only thing to be aware of if traveling around Ireland with a baby or toddler is that, in summer, it doesn't get dark until very late.
This can be a problem if your children are used to settling in the dark. In that case, I highly recommend you bring a portable blackout blind you can use at your accommodation.
Here are some ideas on the best things to do in Ireland with kids in July.
Bring the kids to a farm
July is a lovely time for kids to get out and go to a farm!
If you are visiting Ireland from abroad, your best choice are farms that double up as local attractions or that are near an important site.
Some that come to mind are the Newgrange farm, just beside the Newgrange neolithic complex, Bunratty Castle, Airfield Estate (Dublin) but you can find many more farms pretty much anywhere in Ireland here
Go on a fairy walk
Ireland has a great fairy tradition and little explorers can partake of it on one of Ireland's many fairy trails and villages.
They are all over the country, usually within an open farm or an estate open to the public, and they are a lovely way to get a family walk with a twist: finding a fairy door hidden in trees and bushes never fails to excite little ones!
Paces we love for fairies are Greenan Farm and Maze (Co Wicklow), Ardgillan Castle (Co Dublin), Wells House enchanted walk (Co Wexford) and the fairy village in Bunratty castle (Co Clare).
Go on a falcon walk
Falconry is a tradition in Ireland and several places offer the opportunity to get up close and personal with falcons, admire their amazing flying skills and try your hand at holding them.
Some falcon experiences for kids (and not only) we love: the falconry school in Ashford castle (falcon walks, flying displays), Dromoland Castle (falcon walks), Killarney National Park and, closer to Dublin, Russborough House's birds of pray center.
Get an adrenaline rush in one of Ireland's adventure center
Ireland has very many adventure centers that are great fun for adventurous kids.
Depending on the age of your kids, adventuring can be as easy as going on a squirrel scramble ziplining adventure or spend a weekend immersed in outdoor pursuits in adventure resorts such as the wonderfully located Delphi Resort, in Co Galway, or the Lough Key forest and activity park, Co Roscommon.
Make sure you bring clothes you don't mind leaving behind: the kids have great fun in these places but the clothing doesn't usually survive!
Go castle exploring
Ireland has very many castles that can be fun and entertaining for kids. Some we love are:
Trim Castle: a large castle, now in ruins, with a massive tower from which you dominate the country around you (the top of the tower despite being very high up is child friendly)
Birr Castle: a nice castle worth visiting for its grounds (the main house is still in use). Here you can visit the biggest treehouse in Ireland and what used to be the biggest telescope in the world!
Blarney Castle: a wonderful castle with wonderful gardens perfect for little explorers!
Go visit Fungi, the Dingle's dolphin
Fungi is a bottle nose dolphin who lives in the waters of Dingle and he is a bit of an Irish institution!
The summer is one of the best times to go see him: a water safari to see Fungi in the wild is a great family fun!
I hope you enjoyed this quick overview on what to expect in Ireland in July. Safe travels!