All the best things to do in Ireland with kids, for visitors and locals. The best kids attractions in Ireland, family-friendly places in Ireland, what to do in Ireland with kids.
Ireland is a wonderful country to explore with kids, both of you are a visitor planning a family vacation in Ireland or if you are off on a local adventure for a day off or family getaway.
In this article, I share ideas and things to do in Ireland with kids of all ages.
Go adventure in one of Ireland's amazing adventure centers
Ireland has many adventure centers where kids and adults can get active and get their blood pumping while enjoying Ireland's stunning great outdoors.
The country has many of them, in different areas. Some we love are:
Delphi resort (Connemara, Co Galway): a beautiful resort and adventure center in one of the most scenic areas in the country. You and the kids can choose between over 20 activities (from mountain buying to kayaking and canoe building – the choice is vast!) and you then you can relax in one of their coo family rooms or in their Wild Atlantic Hostel.
Lough Key Forest Park (Co Roscommon): A beautiful campsite with lots of outdoor activities for kids including Zipit treetop adventure, kayaking on the lake, walking and cycling routes, orienteering, adventure playgrounds for younger kids etc.
Clara Lara Fun Park (Co. Wicklow): a fun activity center for a day out near Dublin with ziplines, obstacle course, boating etc. A great thing to do in Ireland with kids if you are looking for a fun-filled family day out or if you need a break from full-on sightseeing while road tripping around Ireland.
Kiss the Blarney Stone
Blarney Castle is one of the most famous attractions in the whole of Ireland and one that is super easy to enjoy with kids.
If you are 8 or up you can partake in the activity the castle is most famous for, kissing the Blarney Stone, however, there is plenty to do here also for small kids and anyone not keen on heights (or queuing for a long time…)
The castle is stunning to see and has lovely grounds with forests, hidden corners and even a 'poison garden'! Supervision is required in the poison garden if you have toddlers but, overall, the castle is a wonderful place for a family out.
You can read our guide to visiting Blarney Castle with young kids here
Go surfing
Ireland is a wonderful place for surfing, its stunning windswept beaches being cold yet ideal for catching the waves.
The best surfing locations are on the Atlantic Coast, so in the West of the country and the South.
Some of the most famous are Lahinch in Co Clare, Inchidoney, Co Cork and the many immense golden beaches of County Sligo and Donegal.
Visit the tallest accessible sea cliffs in Europe
Record-breaking loving kids will be delighted to hear that, in Ireland, you can easily visit the tallest sea cliffs in Europe, at Slieve Leage, in Co Donegal.
The cliffs are huge and truly impressive, plunging into the ocean from more than 596 meters (1,955 ft) and can be reached with a short enough, easy hike.
An extra plus: in the good season, there is an ice-cream van at the top of the hike!
Visit the Cliffs of Moher (Harry Potters' film location)
The Cliffs of Moher are one of the most visited locations in the whole of Ireland and a great place to visit with kids thanks to their connection with Harry Potter, partially filmed here.
Even if you don't have a Harry potter fan in the family, I highly recommend a visit to the cliffs.
As well as beautiful scenery, you have here a nicely done visitor center and the cool O'Brien tower: small explorers should climb to the top and enjoy the amazing scenery, it is so vast, they will feel at the top of the world!
Go cycling on Ireland's greenways
If you or your kids like to cycle, then you will be spoilt for choice in Ireland, in the last few years, the country has truly embraced cycling holidays and now has several areas that are perfect to discover on two wheels.
The Waterford Greenway is probably the best known but far from the only one: you can find info on the greenways and suitability for kids of different ages / different levels of fitness here
Spend a night in a castle
If your child ever dreamed of being a knight or a princess, then Ireland is the place to make that dream come true.
The country has very many stunning castles that are now open to visitors and, in some cases, transformed into hotels.
Some are family-friendly and give you not just an amazing room fit for a royal but also a plethora of experiences to have fun during the day.
The most beautiful of all is Ashford Castle in Co Mayo, where you can also try your hand at archery and falconry but we have a soft spot for beautiful and welcoming Waterford Castle, perched on a wonderful private island and super family-friendly!
Go on a falcon walk
Ireland has a strong falconry tradition and you can get up close and personal with these amazing birds in several locations around the country.
Depending on the place, you can visit a Birds of Prey center, learn about the birds and see flight displays or you can even go on a falcon walk!
Places we love for this are Russborough house, where we held falcons and owls, and also the birds of prey center in Co Clare, which happens to be beside the interesting Ailwee Cave (see below)
Go caving
A family-friendly, easy cave to explore is Ailwee Cave in County Clare.
No experience or equipment is necessary to access this cave but it is a fun place for kids as you get pretty deep inside the rock: at some stage, the guide even turns off all the lights to make you experience complete darkness!
The cave is not suitable for experienced cavers who will find it too easy but a visit is a very cool thing to do with kids in Ireland and one that can be easily added to a day of sightseeing to make it a little more thrilling.
Visit a real castle
The Irish countryside is dotted by impressive castles and some of them are still open to visitors. Among the many, there are 3 we love most of all:
Trim castle, which is the largest normal castle in Ireland and was used to shoot Braveheart (I know, this is confusing, as the movie is supposed to be set in Scotland!).
Make sure you take a tour inside: this will lead you to the top of the castle tower, from where you will have an incredible view.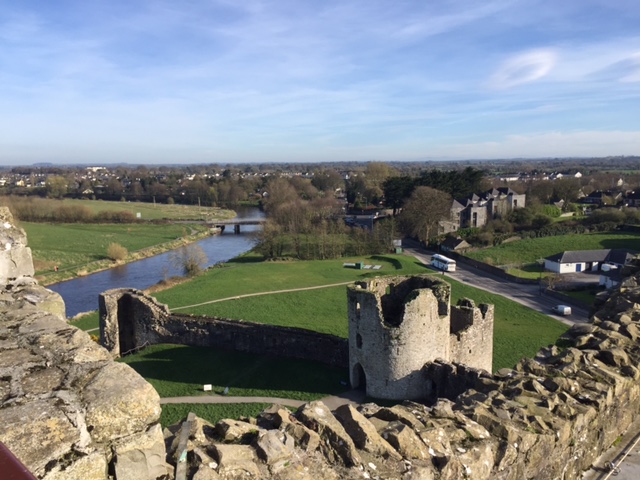 Dunlough castle at Three caste head, which is a super atmospheric ruin of a castle in a windswept remote area of county Cork (it is said to be haunted!)
Blarney Castle, which we already mentioned at the start of this article but that deserves a second mention because of its beauty and impressive grounds
Explore stunning Killarney National Park
Killarney is one of the most popular holiday destinations in Ireland and a great place to visit with kids.
The town of Killarney itself is pretty and well served, full of ice cream shops and well equipped with family-friendly hotels and B&Bs but what makes it special is the proximity to Killarney national park and its plethora of activities
The park is an area of stunning natural beauty and has lots for kids including easy walks, boating and cycling opportunities, playgrounds and the company of an animal unique to this area: the Kerry cows!
Take a hike in County Wicklow
Families who love to hike should head to the Wicklow Mountains an area with pristine scenery immediately to the South of Dublin. The mountains hare are beautiful and in large part accessible, criss-crossed as they are wit several trails suitable;e for hikers of all ages and experience.
With kids, we adore the love to Lough Dan and the lake walk in Glendalough, where you also have one of the most atmospheric historical places in Ireland's Glendalough monastic site.
The photo at the top of this article is from Wicklow!
Explore the stunning Dingle Peninsula
Dingle is a beautiful peninsula in the West of Ireland and one of our favorite places to visit in Ireland with kids.
Remote but easy to explore by car (It is much smaller than the more famous Ring of Kerry), Dingle has lovely beaches, a colorful town, Dingle Town, which has a cool aquarium and is the departure point for rib tours to spot seals and puffins.
You can find here >>> our visitors' guide to the Dingle Peninsula.
Explore Strongbow's castle in Kilkenny (and play in its amazing playground)
Kilkenny is one of the nicest cities to visit in Ireland with kids, with several things to offer its youngest visitors. The first and most impressive is the stunning Kilkenny castle, which is impressive and equipped with a fantastic playground!
The second and third are the many activities for kids available in this area such as Castlecomer discovery park and the cute medieval streets of its city center, full of shops and easily walkable also with kids in tow and the city's well-equipped family hotels (Newpark Kilkenny and Lyrath estate specialize in family packages)
You can find here >>> our visitors' guide to Kilkenny
Hop aboard a famine ship
An incredible educational opportunity but also an interesting one for kids is offered by the Jeanie Johnston, a replica of an Irish Famine ship not docked in Dublin and open to visitors.
Coming here, you will experience first hands the type of boat that brought so many Irish immigrants to the other side of the ocean: a wonderful way to make history (and present world events) come to life.
This is one of the most interesting things to do in Dublin with kids.
Learn about the Irish diaspora (and trace your Irish origins) in Cobh and Dublin
Another fantastic opportunity to learn about Ireland is to visit the Irish emigration centers in Cobh (County Cork) and Dublin (at the Epic Ireland exhibition).
While different from one another, both centers recreate and teach about the history and the experience of Irish emigrants with hands-on, experiential exhibits.
In Cobh, you also learn about the ill-fated Lusitania and the Titanic, which stopped in Cobh before taking to the open ocean, while in Dublin, you can also trace your Irish origins and discover if a part of you comes indeed from here!
Enter the Neolithic passage tomb of Newgrange
Ireland has been inhabited since the Neolithic and still has impressive remains from that time, namely the complex of Newgrange, now UNESCO World Heritage Site.
The tomb dates back to 7000 years ago and has something special: while usually in complete darkness, it gets flooded with light on one day of the year the winter solstice!
The even is hard to witness in person as access is strictly regulated but it gets recreated by your guide when visiting any time of the year. very impressive and worth seeing.
Look for fairies on Ireland's fairy walks
Ireland has a wonderful fairy tradition and has a found a cute way to involve little kids in it: by creating fairy trails! In several parts of the country, you now found fairy trails and fairy walks, along which small kids can spot fairy doors and houses.
Some we like are in Russborough House (Co Wicklow), Bunratty Castle (Co Claire), Ardgillan Castle (Co Dublin) and Bridgit's Garden in Galway.
Listen to live traditional music
Older kids and teenagers are likely to enjoy traditional music, usually played in informal settings such as pubs.
Not all pubs are open to younger visitors but those offering food usually also welcome families and can be a lot of fun (alcohol will not, of course, be served to minors).
Visit a farm
Little kids will adore the many open farms of Ireland.
Here, you can usually get up close and personal with the animals, you will be able to play in the hay, eat cake at the farm shops and you may even be in luck and find some extra attractions such as a maze (this is the case in Greenan Maze near Dublin ) or cool playgrounds (like Glenroe Farm in Wicklow)
Climb into Ireland's biggest tree house in Birr Castle
Birr Castle in Co Offaly doesn't often appear in Ireland's itineraries but it is a wonderful place to visit with kids.
Surrounded by beautiful parkland, the castle has two special things: a wonderful playground with the biggest treehouse in Ireland and what used to be the biggest telescope in the country, a massive construction called the Leviathan!
The castle was an important center for astronomy and has a cool small science museum too: a perfect place for budding astronomers.
Play and explore in Ireland's mansion homes
Many of Ireland's biggest houses and estates have now been transformed into family-friendly attractions where kids can play and explore.
They are wonderful places for a day out with the kids as they usually offer them plenty to do while also providing parents with lovely surroundings to relax.
Some we love are Killruddery House and Gardens, the already mentioned Russborough house and Wells House in Wexford, which also has a cool Gruffalo Trail
Catch the Dursey Island cable car
Adventurous kids may like to take a trip to the Cork to catch the scary Dursey island cable car, the only cable car in Europe over open seawater!
The ride on the cable car is fun and a fun thing to do in Ireland when visiting the Beara Peninsula, incidentally one of the most beautiful areas in the country!
Visit the Cool Planet Experience
A somewhat recent addition to the many family attractions in Ireland is the Cool Planet Experience, hosted in the Powerscourt estate.
This is a wonderful family attraction, an exhibition with hands-on activities for kids to learn about climate change and discover their role in fighting it. This is one of my favorite things to do in Ireland with kids of school age and one I highly recommend!
Go wild on the rides of Tayto Park
Ireland may not be the most famous place for theme parks but it does have a really fun one called Tayto Park!
Located in Co Meath, this is a fun place for rides and rollercoasters, including the 'Cú Chulainn Coaster', famous for being Ireland's first rollercoaster and Europe's largest wooden rollercoaster with an inversion!
Go to the beach
Ireland may not immediately come to mind as a beach type of places but it has gorgeous sandy beaches that rival some of the best in the world.
Actually, the second most beautiful beach in the word IS in Ireland, in County Donegal.
Irish beaches tend to be on the cold side but, on a sunny summer day, you can most definitely go, catch the sun and even swim. The best of the best are in County Donegal, in the North West of the country: they are large expanses of golden sand that will make it hard to believe you are in the North of Europe!
I hope you enjoyed this list of the best things to do in Ireland with kids and gave you some good ideas for your time in Ireland with family. Safe travels to Ireland!