What to pack for Ireland in May: full packing list and insider tips to be comfortable and stylish in Ireland's changeable spring weather!
May is a wonderful month for visiting Ireland. A proper spring month, May in Ireland is a time of changeable weather for sure but also a time of bright sky and dry days, one of the nicest of all!
This is the time of the year I love the most for local escapades and day trips and the month that gets me to love Ireland again after the country's awful winter. Can you see the photo at the top of this post, with that shiny coast that looks like the Caribbean? That's Ireland in May!
So if a trip to the Emerald Isle in May is on the cards, you are in for a treat and I am more than happy to help you get ready for it.
This is my complete, tried and tested packing list for Ireland in May.
Please note: this post contains affiliate links and, should you make a purchase through them, I might make a small commission at no extra cost to you.
We are a participant in the Amazon Services LLC Associates Program, an affiliate advertising program designed to provide a means for us to earn fees by linking to Amazon.com and affiliated sites. As an Amazon Associate, I earn from qualifying purchases
What to pack for Ireland in May: essentials
I am going to start this packing list with essentials for all seasons and then drill down on the specifics for the month of May.
Documents
Passport and Visa if required (find Visa requirements for Ireland here)
Driving Licence
International driving license if needed (check here Ireland driving requirements)
Kids birth certificate and authorization to travel letter of the child's guardian should be traveling to Ireland alone with a child with a different surname as your
Medication and prescriptions for ongoing conditions/ needs
A print out of your reservations (cars, hotels, tours etc)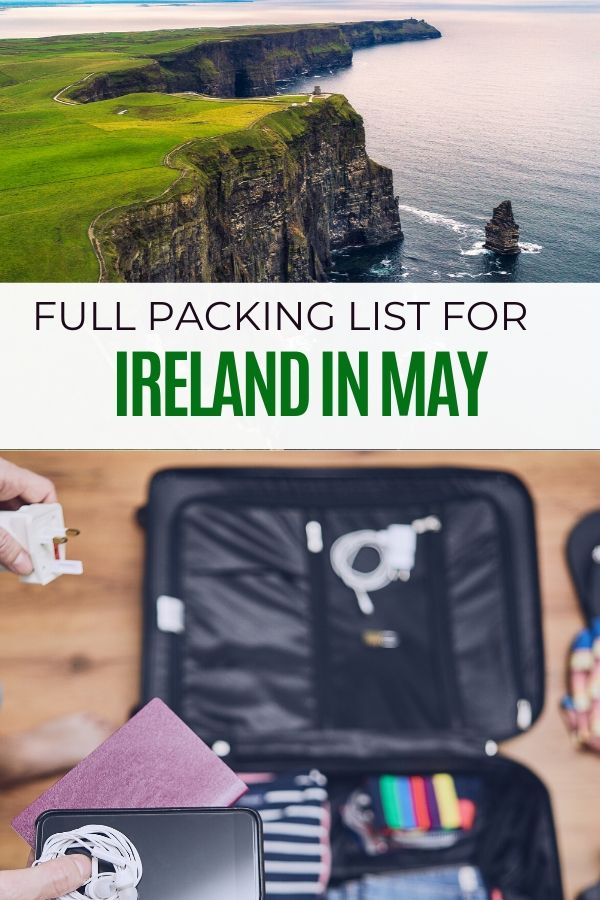 Medications and toiletries
A well-stocked first-aid kit
Moisturizing cream for face/hands with UV protection (the combination of sun and wind can be taxing on the skin)
Allergy tablets – please note that over the counter medications in Ireland may differ from those at home. If you suffer from hay fever, I recommend you bring your own. May in Ireland can be pretty intense if you suffer from hay fever as the flowers are pollens are in full force
Paracetamol or similar for pain / fever
All your basic toiletries including:
Body wash/shampoo/conditioner
Deodorant
Tweezers
Shaving cream/blade
Women sanitary supplies
Brush/comb/detangler
Hair ties
Moisturizing cream for face /body
Nail clipper
Makeup if using
What to wear in Ireland in May
May in Ireland tends to be a mild, dry month however, it also has some rainy days and the changeable and moody weather Ireland is so famous for – it just is a little less moody than usual!
The average temperature in Ireland in May is 11C/52F
The average number of rainy days in Ireland in May is 20
Need to know: despite the high number of rainy days, May is usually nice in Ireland. Rain tends to come in showers rather than solid rain for days and this usually allows for nice sightseeing and long days out.
Personal differences and perceptions aside, this is what you need to pack for Ireland in May:
Mid-season jacket (ideally rainproof)
Light scarf
Short-sleeve tops
Woolen cardigan/sweater
Long pants/ jeans
Tights if planning on wearing a skirt/dress
Good walking shoes such as sneakers/runners
A pair of nicer shoes (ballerina flats work well in this season)
Underwear and socks
Pajama/nightwear
Special gear for surfing/hiking if needed
Swimsuit and flip flops if planning on staying in a spa hotel / going surfing
Sunglasses: Ireland can get really bright in May!
What to wear in Ireland in May if staying in a castle: Some castle hotels, some high-end restaurants and clubs do request their guests to abide by a certain dress code, especially for the evening meal. Information for each is available on the website of the structure in question, however, usually, this means shirt/tie/suit for men, no sneakers and no denim for both men and women.
What to pack for Ireland in May: tech and gadgets
Phone with good roaming plan or local sim card
Hands-free phone holder for car
USB cables
Tablet/kindle if using
Binoculars for bird watching
Camera, if separate from the phone
Reusable water bottle
Luggage and bags
You don't need all of this however, I recommend you choose your bags for Ireland wisely so you don't' find yourself awkwardly dragging stuff around!
Hardshell luggage if driving (super handy to stack in the trunk of the car)
Travel backpack if traveling light / using the bus or train
Reusable tote bag for picnics etc
Wet/dry bags especially if traveling with young kids
Packing cubes – I find these absolutely wonderful to fit more into just one bag! I use one per child and two per adults and this keeps us going for 1 week / 10 days.
Need to know: if counting on doing laundry on the road, make sure you double check with your hosts that you will have access to a washing machine and a dryer. If staying in B&Bs and guesthouses, access to laundry facilities may not be possible – make sure you plan ahead!
What to pack for the kids
Safe and Ireland authorities approved car seat (official rules here)
Kids travel pillow for the plane/car
Well stocked changing bag
All-terrain stroller (I prefer these in Ireland to the super-light ones: they are much better when exploring the Irish amazing countryside)
Rain cover for stroller
Sun hat and sunglasses for baby
You usually do not need to carry your own high chair or toddler crib: Ireland hotels and restaurants tend to be well equipped and, most of the time, will be able to provide what you need.
If staying in smaller properties and B&Bs, ask for a cot in advance to make sure they have one available on your dates.
I hope you found this packing list for Ireland in May useful. Safe travels!