A selection of the best virtual tours and virtual field trips in Ireland to see the beauty of the Emerald Isle without leaving your house. Perfect for armchair travelers and travel planning!
Visiting Ireland is a full-body experience.
Your eyes see the country's beauty, your skin tickles under the caress of the Irish wind, your ears resound with the screams of the bird, your nose takes in the Irish clean air and your palate delights in the earthy Irish foods and drinks.
A virtual your will never replace these experiences however, virtual field trips or virtual tours as they are also called, can be an excellent way to get a taste of Ireland when travel is not possible or anytime you want an Ireland fix from the comfort of your own home.
I discovered virtual tours in March 2020, when world travel came to a halt, and I can't get enough of them. Some of them are absolutely wonderful and I discovered they are a wonderful aid to travel planning.
Thanks to them, you can get a sense of a specific attraction, familiarize yourself with it, figure if it is suitable for your kids and make an educated choice about whether to then try and go see the actual thing or give it a miss altogether (that's a totally acceptable outcome too)!
Not everywhere in Ireland is accessible by virtual tour but some locations are. This is my selection of the best virtual yours in Ireland.
The best virtual tours of Ireland for armchair traveling and travel planning
Virtual field trip to Blarney Castle, Cork
Blarney Castle in County Cork needs no presentation.
One of the most famous places in the whole of the country, it regularly features in Ireland itineraries and indeed, it is worth its fame: I find Blarney Castle on of the most beautiful places in Ireland.
Blarney deserves a visit but also has an excellent virtual tour that you can easily access from your computer.
The tour is a sequence of images that you can move around using your mouse of laptop pad and allows you to see different parts of the castle and its gardens.
My favorite part, both in real life and in the virtual yours, is the poison garden and the nearby forest! I must not be the only one to think that as this is where the tour starts!
You can access the Blarney Castle Virtual your for free here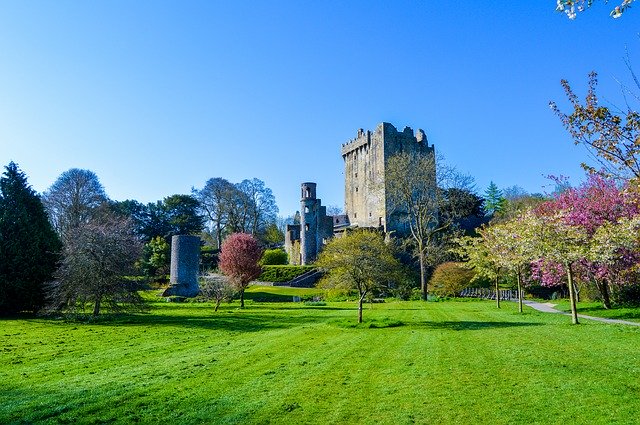 360 degrees virtual visit of Trinity College Historical Library, Dublin
One of my favorite cultural attractions in Ireland is the wonderful Long Room, the historical library of Trinity College, in Dublin.
The library is an incredible, vast space entirely covered with books: floor to ceiling, dark wooden shelves host over 200,000 books! The library is hosted in the same building as the famous book of Kells and both can be, somehow, enjoyed online.
You can find a 360-degree interactive photo of the library here, which gives a sense of the scale and beauty of it, and you can see the Book of Kells close up here.
The Book of Kells is wonderful and actually, incredibly interesting seen this way as you can really take in the detailing, which is breathtaking!
Cliffs of Moher Virtual Tour, Co Galway
The stunning Cliffs of Moher are super photogenic so I knew a virtual tour of them would be excellent and, indeed, it is!
I find it great to visit the cliffs remotely but also as a tool to plan your visit: if you are worried about visiting the cliffs with a fear of heights, for instance, seeing what the viewing points are truly like can help you gauge suitability.
You can access the virtual on the official cliffs website here. Just click on any image you fancy to get started!
The Giants Causeway Virtual Tour, NI
The Giants Causeway is one of my favorite places in the island of Ireland and one so beautiful it literally took my breath away when I first saw it.
It was a stunning vision that seemed to mix the best of Ireland, a pacific island, Iceland and God knows what more. The causeway is truly unique.
The causeway is managed by the UK National Trust (it is in Northern Ireland) and you can access their official virtual tour here. Scroll down the page a little and click on the 'take in the view' button to get started.
Carrick-a-rede Rope Bridge, Northern Ireland
if you were visiting the Giants Causeway in real life, chances are you would also be visiting the suspended rope bridge of Carrick-a-rede, only a short drive along the same coast.
The bridge is on a wonderful stretch of coastline but it is not for people with a fear of heights: I went all the way to its start to find I was simply unable to step onto it for vertigo!
If you are like me or just want to check how scary it is, now you can: access the virtual tour here
The Chester Beatty Library, Dublin
This one is for museum lovers! The Chester Beatty Library is a wonderful museum in the grounds of Dublin Castle, hosting a world-renown collection of manuscripts and rare books from Europe, the Middle East, North Africa and Asia.
The collection is beautiful in real life but worth exploring virtually too.
You can access both the virtual tour of the museum and their digital library clicking here
Cobh Heritage Centre and Titanic Experience, Co Cork
The town of Cobh is famous for being the last stop of the Titanic, as well as more generally an important emigration port.
Cobh preserves the memory of these events with two different attractions, the Cobh Heritage Centre and the Titanic experience, covering respectively the experience of the over 6 million people who had to emigrate from Ireland by sea between 1848 and 1950 and the story of the fateful Titanic trip.
We visited the heritage center in person and found it amazing for both adults and kids.
You can access the heritage centre here or virtually have the Titanic Experience clicking here
Ashford Castle, Co Mayo virtual tour
If you have been researching castle hotels in Ireland, chances are you have come across the wonderful Ashford Castle one of the most beautiful, luxurious and truly regal castle hotels in Ireland.
A night here is not cheap and if take a peek inside, you will immediately see why! Have a look and start dreaming clicking here
Virtual tour of Kylemore Abbey, Galway
Kylemore Abbey is another heavyweight among Irish attractions. Its beauty comes mostly from the beautiful natural surrounding around it, however, it still shines through if see through a screen.
You can access this Irish virtual your here but make sure you click on the double arrow in the lower right corner: the interactive images of the nature surrounding the Abbey are simply wonderful.
Newgrange passage tomb, Co Meath, virtual tour
The Neolithic passage tomb of Newgrange is beautiful, unique, historically significant and one of the only 2 UNESCO world heritage sites in Ireland (the other one is Skellig Michaels).
Visiting Newgrange in real life is worth it but often hard, due to the high demand and the fact that only small groups can enter at any given time, however, visiting virtually is easy!
Have a look here: this virtual tour is great and a godsend if you want to visit Newgrange but suffer from claustrophobia!
Skelling Michael Virtual Tour, Co Kerry
Skelling Michael is one of the hardest places to access in Ireland, due to the moody waters that surround this rugged island and the slippery path leading up its ancient monastic settlement.
We haven't been yet (you cannot go with kids) so this 360 interactive image is as close as we could get!
I hope you enjoyed this selection of the best virtual tours of Ireland you can enjoy from home. I will keep adding as I find more, save this post for later and come back to check what we found!
Safe travels to Ireland.