Easy apple cake recipe, a guaranteed success with the whole family! Simple recipe for homemade apple cake for tea, parties or kiddie snack time.
When it comes to apple cakes, my household is divided. My husband loves apple pie while I am a fan of apple cake.
The pie vs cake debate may seem a question of semantics and indeed different households use the terms interchangeably. However if, like me, you love one type but detest the other, well then getting your definitions right becomes important!
In this article, I use the terms 'pie' and 'cake' in the following way:
Apple pie is a dessert with two layers of pastry and a generous apple filling. When you open a pie, the filling is moist, loose and almost jam-like, the apples partially melted by the baking process and the sugar.
Apple cake, on the other hand, is a dessert closer to a sponge, a baked sweet where the apples are mixed with the baked dough, rather than used as a filling. When you open the cake, it may be a little crumbly but it keeps its shape, a little bit like a marble cake does or a basic sponge.
In Ireland, both variations of this apple dessert exist and indeed, Irish apples are lovely and really inviting for the baker, Irish apple cake is a bit of an Irish staple.
Today, I decided to tackle my husband's love for apple pie baking an apple cake that would simply blow any pie out of the water and I think I did it!
My apple cake recipe below, which I owe to my Italian grandmother and tweaked with Irish apples, was a resounding success and now a firm family favorite. It is now my go-to dessert for Easter lunch too!
I hope you like it too, happy baking!
This post contains affiliate links. Should you make a purchase through them, we might make a small commission, at no extra cost to you.
As an Amazon Associate, I earn from qualifying purchases
Apple cake recipe questions and answers
What are the best apples for apple cake?
The apples used in a traditional Irish apple cake are the so-called 'cooking apples' or Bramley apples, large, green apples that are too acidic to eat along but come out delicious in baked goods and meat sauces.
They are the best apples for apple cake if you can get them and they are usually in season October.
If you cannot get hold of them, the closest thing to stay in line with tradition are Granny Smith apples, also green but you can also use standard eating apples in this recipe which is actually just what I did.
Good to know: for your apples to stay moist and firm, opt for a crunchy variety, as little floury as possible.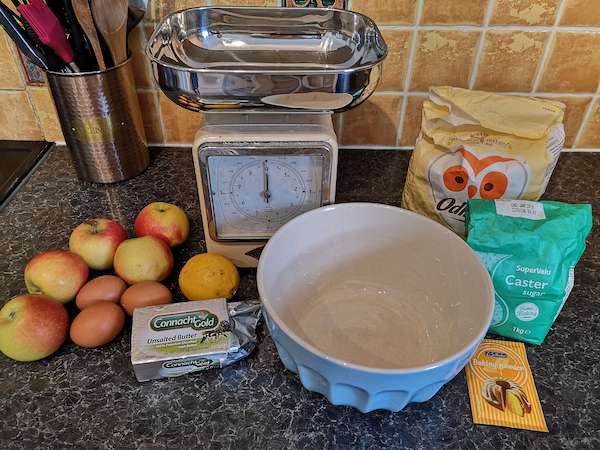 Do I peel apples for apple cake?
Yes, I do peel my apples for apple cake.
Should I cook the apples for apple cake?
No, there is no need. You add the apples to the dough and they cook with the rest of the cake. Very little work and time are actually needed, this is one of the reasons I love this recipe so much!
Can I cut the apples the night before for apple cake?
I know doing all the prep work in advance is tempting but apples do not keep well and you will have a much better result peeling them and cutting them at the very last minute.
I will actually go as far as saying that, when you get to the point of folding the apples into the dough, you should act fast and not get distracted: apples won't be inedible the day after but they get very dark very quickly and they also lose their moisture fast so it is better to leave everything to the last minute.
If you really have to do it, then your best bet is to soak your apples in lemon juice (or a mix of 1 cup of water to 1 spoonful of lemon juice) and then keep them in a ziplock bag or airtight container. Read how here.
Tools you will need
You do not need special gear for this cake however, you will need:
Food scale
Large bowl for mixing all the ingredients
A wooden spoon
A sharp knife to peel the apples
A cake tin (I used a 20cm / 8-inch removable bottom container for this one)
How to make apple cake: the process
Making an apple cake is easy and can be done also with no previous baking experience. I say this without false modesty: if I can make it, anyone can!
The first thing you need to do is prepare your tin, which you need to grease with butter. I asked my 9-year-old son to do that and it's an easy and satisfying job for kids, messy enough for them to enjoy too!
Then you start with sugar and butter, then you add slowly your other ingredients, starting with the eggs, the flour the lemon and finally the apples.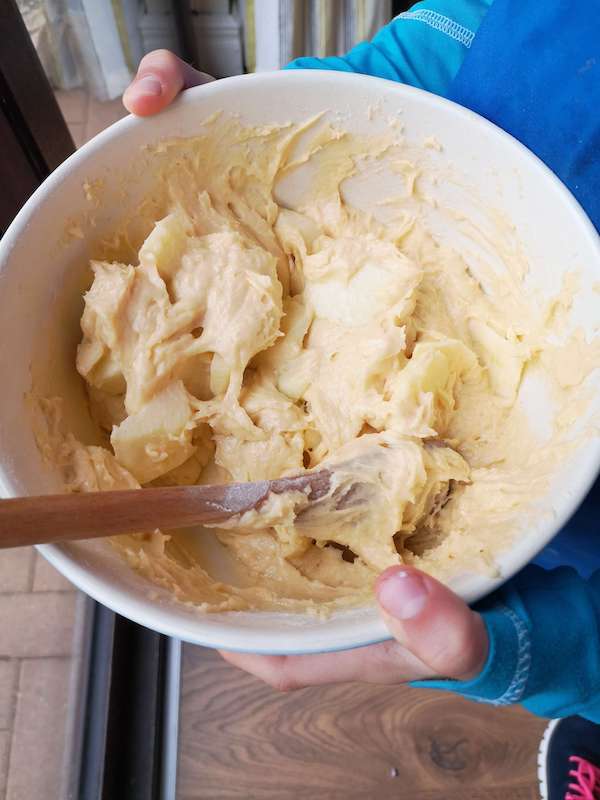 You only need a wooden spoon or a spatula to mix everything, no robot or machine required, but pay attention: you want to make sure you don't get clumps of butter.
If you do, just make sure you use the spoon to amalgamate it at best with the sugar, it will not take long.
Once you are happy with your butter and sugar mixture, add one by one your eggs, then the lemon, the milk the flour and the baking powder: mix in between each addition.
Finally, peel your apples and cut them into thin slices – you don't have to be super precise about it but it is best if you make them of a similar size to each other so that they cook evenly.
Toss them in, mix everything, then move the mixture to your cake tin.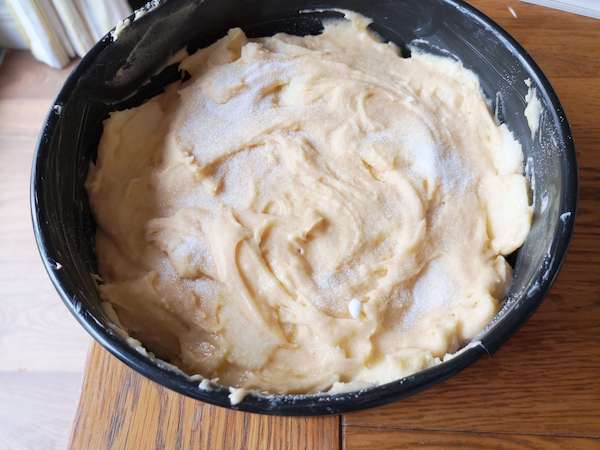 Last touch: sprinkle a generous spoonful of sugar on top for the outside of the cake to turn crispy. Bake for about 40 mins at 180 degrees in the oven and ta-dah! Your cake is ready!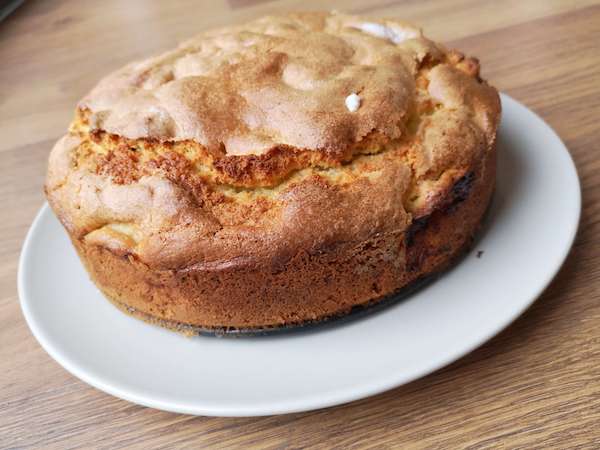 Apple cake recipe: printable version
Yield: 8 portions
Delicious Apple Cake Recipe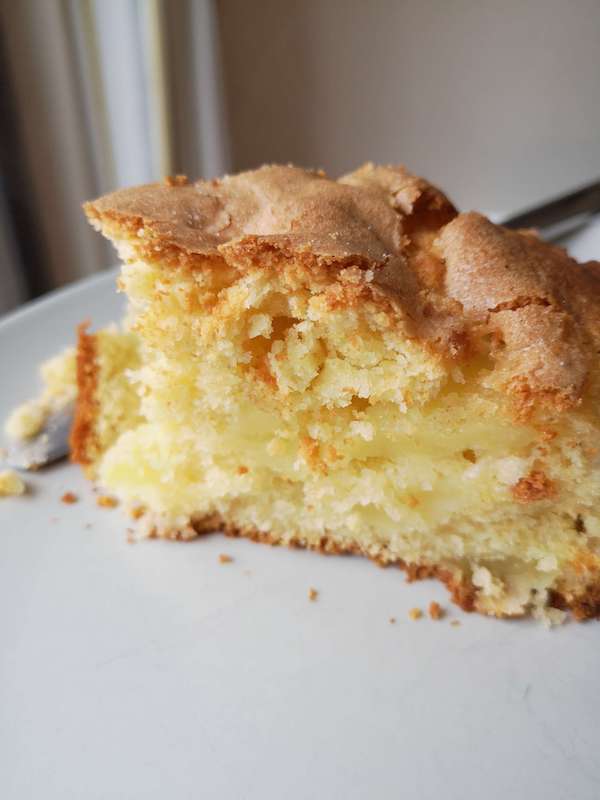 Easy to make, delicious apple cake! Perfect for a sweet breakfast or with tea, this is a wonderfully moist cake made with wholesome ingredients, perfect for kids and adults alike. An Irish specialty for all seasons and occasions!
Ingredients
300 g flour
15g baking powder (a sachet)
150 g sugar
3 eggs
100 g butter
1 dl milk
4 small apples (if using large cooking apples, 2 are more than enough)
Grated lemon rind (or a few drops of lemon juice)
Instructions
Grease a tin with butter and set aside
In a large bowl, mix the sugar and butter, then slowly
Add the eggs, one by one, mixing well after adding each one then
Add the milk and mix, then
Add the lemon and mix, then
Add the flour and baking powder
Mix very well until all ingredients come together to form a sticky, heavy dough
Peel the apples and add them to your mixture
Mix well
Pour into the tin container and flatten so that all the base is occupied and the top of the cake is level
Use a spoon to sprinkle sugar on top
Bake in ventilated over for 40 min at 180C
Serve!